Sharm el-Sheikh is a scuba diving and snorkelling hotspot. Home to a vast number of dive sites that are suitable for all levels, as well as some of the most vibrant coral in the world, it's seen as one of the best places in the world to get certified thanks to its great infrastructure. The sea is warm all year around and although currents do get strong in parts, it's almost always got favourable conditions, another reason why those in the know love it so much. If you're keen to find out about the best dive sites in Sharm el-Sheikh, as well as everything else you need to know about scuba in this city, then read ahead for Orbzii's ultimate guide to scuba diving in Sharm el-Sheikh. 
Diving Overview
There is an endless amount of diving infrastructure in Sharm el-Sheikh, with dozens of different companies to rent equipment from and even more offering trips out to the most iconic dive sites. The water has good visibility year-round, although Spring and Summer are usually considered the best times for diving. While there are some strong currents, especially in more famous sites like Yolanda, it's generally easy to kick around, meaning you can focus on seeing all the underwater magic of Sharm instead of getting out of breath from having to exert yourself too hard. 
There are all kinds of sites here, from shipwrecks to coral walls to drift by. While some are just off the shore, like the numerous locations in Ras Mohamed Marine Park, many need boats to access, meaning you'll have to go through one of the many diving businesses that call Sharm el-Sheikh home to see them. If you want to learn you're in luck too, with plenty of places to get your PADI certificate. Frankly, there aren't many better locations for diving in the entire world.  
The Best Dive Sites in Sharm el-Sheikh
Raz Ghozlani
A dive that's suitable for all levels yet rewarding as any other you might find in the region: Raz Ghozlani is just at the northern tip of the Marsa Bareika Bay and goes as far down as 30m. There are plenty of interesting animals to frolic around with, including clownfish and turtles, as well as corals to be awed by.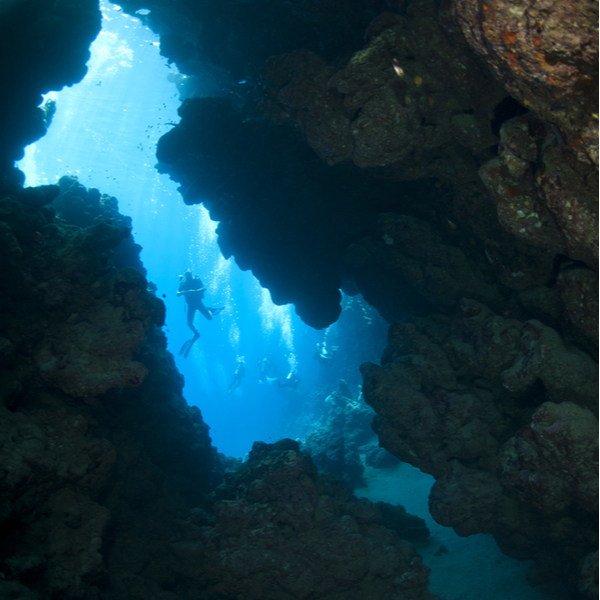 Jackfish Alley
Another dive in the astoundingly beautiful Ras Mohamed, this gentle drift dive has varied terrain and ends with the chance to view sharks. The dive starts off with a small cave swim which opens up to the main reef, where the white tip reef sharks are often sleeping. A must-dive. 
Ras Za'atar
This dive is all about the astounding lighting, which is at its best in the afternoon. Beginning with plenty of caverns and caves to explore, most of which shimmer in the shafts of light that get through the reef plate, the dive then opens into a large plateau where you can easily spot sharks drifting by.  Currents can be strong, but it's still suitable for most skill levels. 
Thistlegorm
The dive around this WW2-era wreck is iconic as it is beautiful. The boat was utterly ripped apart by German bombers, but that means the middle of the structure is now very accessible for divers, and being at 30m it's not too deep. The site isn't just considered one of the best wreck diving sites in the region, but the entire world thanks to its plethora of cargo to discover and the sheer variety of marine life that swims around it. 
Dunraven Wreck
Another wreck site about an hour-long boat ride from Ras Mohamed, this dive is a little more influenced by weather and current than the famous Sharm sites that are closer to the shore, but once you're at the reef there is a little more protection. The ship sank in the late 19th century and delivers a wonderful structure to explore as well as the chance to see glassfish in their thousands. The reef wall adds another element, making this one of the most varied dive sites in Sharm el-Sheikh. 
Best Dive Centres
Camel
If you're keen to make scuba diving the centrepiece of your Sharm el-Sheikh trip, then there's no better place than Camel Resort. The hotel and diving centre offers all-inclusive packages and is the perfect place to get more involved in the local diving community. While it is better to stay on-site, you can also join the tours and get certified even while at another accommodation as they offer daily pick up and drop off services.  
Aside from having everything you need on-site to learn and get certified, they offer daily tours to the best dive sites in all of Sharm el-Sheikh. The resort is also a social one, with events in the evening and the hotel bar and restaurants always buzzing. 
They also have a huge emphasis on sustainability, making sure that new divers know how to interact with the ocean in a way that means they take only experiences and memories away. If you're keen to dive with a group of likeminded people, and have a few beers with them afterwards, then there really isn't a better option for diving in Sharm el-Sheikh.  
Sinai Divers
With multiple locations, including one a couple of hours north of Sharm el-Sheikh in Dahab, a small city also known for its fantastic dive sites, Sinai Divers offers the best coverage of this region. They've been operating for over forty-five years, and the staff are exceptionally knowledgeable about the area too. So, if you're looking to really see the best of the Red Sea, there aren't many better diving centres to go with.  
Whether you're keen to get PADI certified or are already a scuba expert, you'll find what you're looking for at the Naama outpost of Sinai Divers. You can choose to stay with them, or if you've got other accommodation booked then drop-offs and pick-ups are provided. 
You can even take day trips up to their other centres in the idyllic, sleepy Dahab. Really, there aren't many better centres to dive with in the region. 
Best Snorkelling Areas
Ras Mohamed
The National Marine Park that Sharm el-Sheikh is most famous for, Ras Mohamed delivers brilliant coral, astoundingly vibrant marine life, and warm, soft waters to frolic in. The area is just off the shore so easily accessible, and home to 220 species of coral. Spot sharks, look at wrecks from above, and discover the near-thousand species of fish and other sea life that call the park home. The only thing you can be sure of when snorkelling in the area is that you're bound to be astounded. 
Dahab
Located about an hour north of Sharm el-Sheikh proper, this sleepy town has long been known as a diving and snorkelling mecca. While you won't get the creature comforts and luxury of Sharm here, you will get endless golden beaches and some of the most stunning marine life you're ever likely to see. Dahab isn't exactly a backwater either, but there definitely is a much more relaxed vibe here, and the diving and snorkelling culture remains incredibly strong. If you're looking for something serene and special, then take the trip up with your snorkel and you won't be disappointed.