Few cities in the world are as awash with opportunities for adventure as Cape Town. Offshore waters are shark-filled, the seals are always up for a scamper in the kelp with you and you're not short on mountainous peaks to conquer, clamber on or jump off. And we haven't even talked about the views from above. Paragliding and skydiving trips in Cape Town come fully loaded with some of the best views you'll find. And, on your flight to the floor, you may notice some vast, pristine and tempting sand dunes. Of course, there's adventure to be found there too. Board, sled, quad or dune buggy your way through them. Your method of transport doesn't matter – just get there.  
We've rummaged through the Cape Town companies that get you amongst the city's action. Read on and feel the FOMO start to course through your adventure hungry veins. 
Shark Cage Diving
There are too many reasons to list to go to Simon's Town. But for thrills, shark cage diving from Cape Town's oldest town is hard to beat. African Shark Eco-Charters are the team to get you in the water. Their expertise is used by worldwide camera crews – we'll namedrop the BBC and Discovery Channel – and their safety record is a reassuring plus. Shark spotting here comes with a trip to seal island, where you'll see plenty of the resident seal colony. The real action is in the water – though you can watch the sharks from the boat. Anyone familiar with the Discovery channel's Air Jaws might be in Cape Town to see the famous breaches. This company use the same decoys – and there's always a chance the great whites might burst from the waves. Expect to pay around R1650 (~£76) for the trip and time in the cage.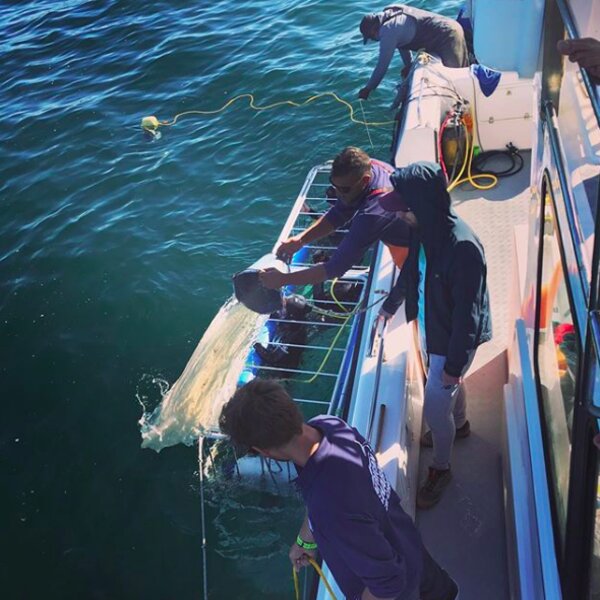 Seal snorkelling
If getting in the water with Cape Town's sharks is a step too far, how about some time in the company of the city's Cape Fur seals? There's a playful and inquisitive bunch – about 5,000 at the least count – in Hout Bay on Duiker Island. Animal Ocean run a small group trip you can join. Numbers never top 10 in a boat, and the team don't do anything to lure the seals to you. No feeding, no training and no touching. All of which means the sleek and slender swimmers are  whirling within a whisker's length of you because they want to. You'll get wetsuits, snorkel gear and the boat trip for around R400 (~£18.50) An ethical trip with added hot chocolate to warm your adventurous soul after a bracing dip in the Atlantic. 
Skydiving
It always pays to have a think about just hopping out of a plane, mid-flight. Some would argue top of that list would be parachute musings. But we'd like to add location as a strong contender. Yes, you're after an adrenaline rush, but a bit of a view is a nice touch. When it comes to skydiving, Cape Town's rated as a top spot. Table Mountain, coastal vistas and Robben Island are ready to wow your eyeballs as the rest of your body tries to figure out which way is up. Sky Dive Cape Town will see you're suitably strapped to an experienced skydiver – so no fears there. Swap R2850 (~£132) and a few hours of your time for a 30 minute flight to 9,000 feet, a 30 second freefall and a 5 minute scenic swoop over Cape Town below. Add an extra R800 (~£37) and they'll film your experience too.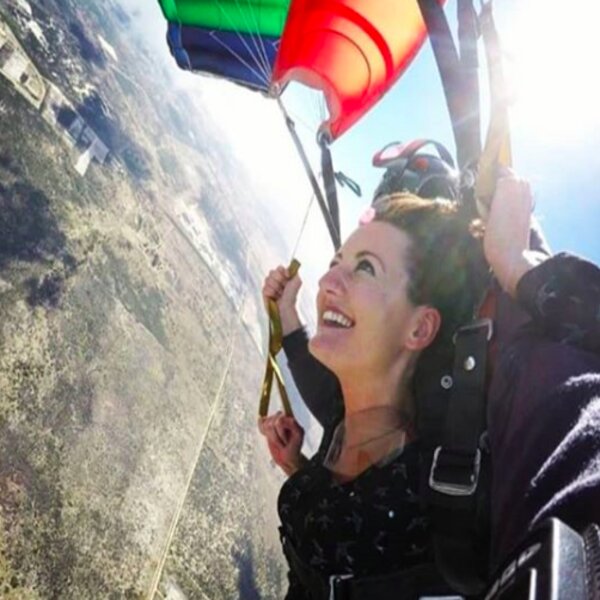 Orbzii Tip: Have a chat with the team and they may be able to arrange a Cape Town pick up and drop off (for an additional fee). 
Paragliding
If jumping out of a plane isn't calling to you, we'll nudge you gently towards paragliding. You're still under the watchful gaze (and sturdy straps) of an experienced flyer, but you step off from solid ground. In Cape Town, paragliding usually starts on Lion's Head. We'll start by saying the views are stunning. Which definitely isn't overstating matters. Fly Cape Town's flights start at R1300 (~£60) – though you may want to add the extra R300 (~£14) for them to film your adventure. If you're keen to do more paragliding, the team can also train you. Courses range from 1 – 14 days, where you can learn everything from acrobatics and your basic license to airborne safety skills. 
Orbzii Tips: The best conditions for paragliding in Cape Town line up between October and April. This is the time of year that Fly Cape Town also run their paragliding tours. You'll get to glide over varied landscapes, including Constantia's lush winelands – and sample some wine tasting, Cape Town style. 
Abseil Table Mountain
Abseiling isn't usually at the forefront of our minds when it comes to thrill-packed fun. But this is Cape Town. Not a place for half measures, it's home to the highest commercial abseil in the world. Hanging from ropes a vertical kilometre up a mountain adds certain amount of adrenaline to the Camps Bay views. And, well, if you're going to abseil down something, you might as well make it Table Mountain. Now seems as good a time as any to whip out the phrase 'go big or go home'. Plenty of companies offer this as an excursion – but Abseil Africa specialise in ropes, carabiners and Table Mountain abseils. The whole experience lasts around an hour and costs R1195 (~£55.50). We think it's worth every penny for the unique location.
Orbzii Tip: Love abseiling and want even more thrills? Check out Abseil Africa's 'Kamikaze Kanyon' trip. On the full day trip you shimmy down a 65m waterfall, go on a lengthy canyoning session and hike and explore in the Kogelberg biosphere reserve. 
Sandboarding
It's fair to say Cape Town's Atlantis dunes are a thrillseeker's haven. 4×4 dune bashing, quad biking and dune tours are all grand options. But for 2 hours of pure fun, sandboarding is the one. Snowboarders and skateboarders will have no trouble mastering the sands – but novices will be riding the dunes in no time. Best of all, the team at Sand Boarding Cape Town will even run you back to the top of the dune in their 4×4 – depending on which experience you book. A stunning sandscape, high speed rides and the chance to sand-sled down the steepest dunes. For a 4×4 lift up the slopes, expect to pay R865 (~£40) per person. If you can't decide how you want to conquer South Africa's sand slopes, the group's ultimate package includes sandboarding, quad biking and a dune thrasher ride for R2200 (~£100). 
Orbzii Tips: It might be Cape Town's summer, but it's can also one of the windiest seasons. You'll be warm, but on the dunes the find sand may sting as it hits any bare arms, legs, faces – basically anything exposed. Cover up in cool cotton to avoid over-exfoliating. 
Let's get you in the midst of Cape Town's top thrills quick sticks with the Orbzii app. Book and plan your ultimate Cape Town adventure. Just don't forget to pack your Go Pro.