Even though it's known for above ground beauty, Phuket has a gorgeous underwater life too. The marine wildlife around Thailand is famously eclectic, colourful, and stunning to see, and the seas that surround Phuket are usually warm with decent visibility, so it makes sense that diving and snorkelling is a common pastime on the island. 
There are a number of different diving schools and sites in the Phuket region, although the best sites (like many others over the world) are further offshore as there's less human influence. Snorkellers have pretty much immediate access to a whole host of great sites and interesting wildlife. 
So if you're ready to dive into a scuba or snorkelling trip in Phuket, then look no further for inspiration: our guide to underwater Phuket will answer all your questions. 
The best time to dive in Phuket
Like most places, the best time to dive in Phuket is during the warmer season. Whilst the rainy season is usually only punctuated by short, sharp downfalls that don't affect visibility too much, the occasional flurries of precipitation do make a difference, so you won't get that crystal-clear water you're searching for. 
With that being said, the dives are much less crowded and accommodation tends to be cheaper if you go outside of the November to April warm season, so if you're less fussed about picture perfect visibility and more keen to explore the dive sites with fewer distractions, then you should plan your trip for this time.  
No matter what time you go, though, you're sure to have a great time scuba diving in Phuket. 
Phuket's marine life
As you'd expect, the wildlife on show varies from dive site to dive site, but the most exciting marine life living in the Andaman Sea includes Manta Rays, Whale Sharks, Reef Sharks, and a wide number of turtle species.  
To put it frankly, Phuket diving has it all. There's also tonnes of great coral around, a lot of which is in quite shallow water so is suitable for snorkellers as well as divers.  
The best diving and snorkelling schools in Phuket
Diving is well established on Phuket and on the many smaller islands that surround it, so you really have a wide pick of diving schools. However, there are some which we would highly recommend, whether it be because of the service, their local, expert knowledge, or because they offer great value. All of these schools also offer snorkelling equipment rental and snorkel tours, so if you don't fancy donning the wetsuit and oxygen tanks, you don't have to. 
Scuba Cat
An excellent diving school for novices and experts alike, you can get PADI certified here or just go on one of the many tours they offer. The instructors are incredibly supportive, and the trips are efficiently run, without losing any of the fun. They also take a serious approach to environmental concerns, embodied by their support of the Green Fins initiative. This means their divers survey and keep track of new information about dive sites, noting any issues that may be caused by too many visitors. This is especially important for corals, which are incredibly fragile and prone to bleaching. Scuba Cat is one of the schools who take the environment the most seriously, so if you're an eco-warrior then they're definitely worth booking with.
As far as Phuket diving goes, the knowledge the instructors have means you get to visit the best sites in a safe and fun manner. They also have the 'Scuba Kittens' programme, so you don't have to think about where to leave the kids if you want to spend the day scuba diving in Phuket; they'll be looked after and might even learn a thing or two themselves. There's also plenty of scope for technical diving, deep diving, and even learning how to rescue dive. If you are a novice diver, you can go on a one-day course with 2 dives costing 4,500 Baht (GBP 112) or get PADI certified over 2 days for 10,500 Baht (GBP 270). The standard PADI open water certification costs 14,500 Baht (GBP 370). All course costs include gear rental. 
Sunrise Divers
With over two decades of experience, this well-established diving school is a Phuket diving institution. They offer all sorts of different diving certifications, as well as tours around Phuket and to the absolutely gorgeous Phi Phi Islands and Similan Islands, which are where a lot of divers in Phuket end up diving.  
Because they've been doing them for so long, the tours are incredibly well organised and hit everything you'd want them to. Some of the tours are a bit further out, so include overnight stays (and some are multi day tours, so you can really get the best out of your scuba diving in Phuket experience).  
This particular PADI open water course is three days long, and like most others includes an eLearning component you complete before arriving to Phuket. Practical class sizes are a maximum of three people, so even if you're nervous about your first foray into diving you will be in good hands and have plenty of attention paid to you. The price for the course with four dives is 13,000 Baht (GBP 320). 
Merlin Divers
Another excellent school and shop, if you want to go scuba diving in Phuket then Merlin can help you find some underwater magic. Just a short hop from Kamala beach, they offer all types of diving classes and courses, from basic discovery courses to the high end, SSI Dive Master course.  
If you catch the bug and decide there's nothing else for you in the world except the water and your tank, you can even do their special programme for those who want a career in the industry; you wouldn't be the first tourist to give it all up for the sea life, either! 
The Open Water PADI course is 13,500 Baht (GBP 330) so similarly priced to other schools. It also lasts three days, but the theory component is done in Phuket, not online as with the other. The certification includes four separate dives in open water and a couple of hours practicing in the pool. 
Phuket diving spots
Whilst most of the famous Phuket diving sites are actually part of Koh Phi Phi and the Similans (and the vast majority of schools will offer tours there), there are still plenty of gorgeous, underrated sites specifically in Phuket and the surrounding waters. Here are our favourites. 
Phuket Shark Point
With an averagely strong current and usually decent visibility, this site has three different main pinnacles, all at different depths. Named for the prevalence of Leopard Sharks in the area (usually dozing on the ocean floor), there are also Bamboo sharks and sea snakes swimming around.  
It's also one of the best sites that's still quite close to Phuket, so if you don't want to spend the whole day diving but still want a fun experience, you should head here. 
Anemone Reef
Sometimes spots are super popular because they're just so good, and Anemone reef is one of the best places for Phuket diving. You need a boat to get to the spot, but pretty much every single dive school will offer trips here. There is a diverse array of marine life at the reef, including Lionfishes, Clownfishes, Giant Moray Eels, and turtles.  
The dive is just over 20m deep but has a mostly gentle current and great visibility, so it's suitable for all divers. 
Karon Bay
If you want a nice, easy dive, or you're a beginner who doesn't want to get in too deep, then this 8m dive is perfect for you. Used mainly for diving courses, the current is quite weak, and the visibility is incredibly high, so it's a great spot to learn in. It's a local favourite when it comes to marine photography, too, and home to a lot of turtles. 
Koh Racha Yai
We're moving further out now, with this island being about an hour and a half from Phuket by boat. There are a tonne of reefs and coral gardens surrounding it, and a few top-quality dive sites, including some small wrecks. The wildlife includes Scorpionfishes, barracudas and many more. The current is quite strong, but one half of the island is usually sheltered from the wind, so you can dive there if you want to feel a bit more secure. 
King Cruiser Wreck
This ship, also affectionately known as the Thaitanic (a name that only came about well after the sinking incident, in which nobody was killed), is home to several schools of snappers and yellowtail barracudas, as well as a tonne of other wildlife.  
It was once quite an easy dive, but time has ravaged the structural integrity of the wreck and now we would only recommend experienced divers visit. If you do make the trip, though, you won't be disappointed; it's like looking into another world. 
Phuket's best snorkelling spots
If we're honest, the best snorkelling spots in and near Phuket really depends on what you're looking for. Here's our favourites:  
Ao Sane
If you want serenity and some time alone with the animals, then Ao Sane is a secluded beach which is home to plenty of wildlife, including Clownfish. Some of the best spots on the beach are only accessible at high tide, as the coral is close to the surface and incredibly sharp.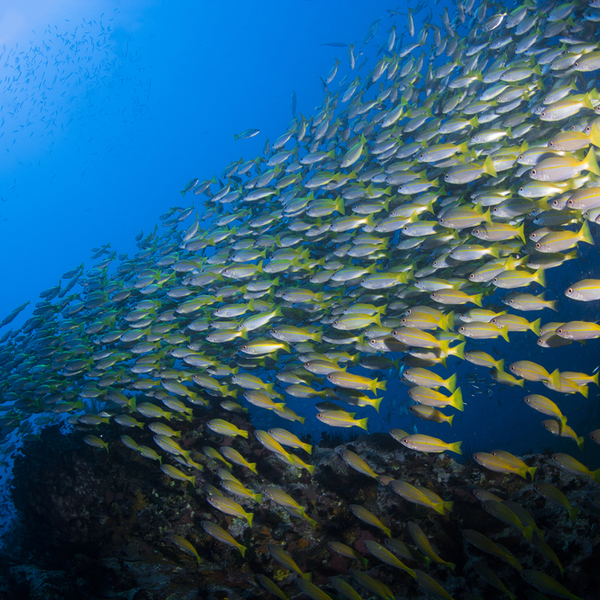 Paradise beach
Paradise beach is about a 10-minute drive from Patong and has a gorgeous reef just offshore. The beach is private, but that means equipment is easily available, so if you just want to snorkel for the afternoon and not have to think about preparing, then head here. 
Ya Nui beach
If you have boat access, then head to Ya Nui beach, which has some of the best visibility in the world around the tiny islet that sites opposite the beach. The waters here have a rainbow of tropical fish to spot, and although the beach is usually crowded, the water isn't.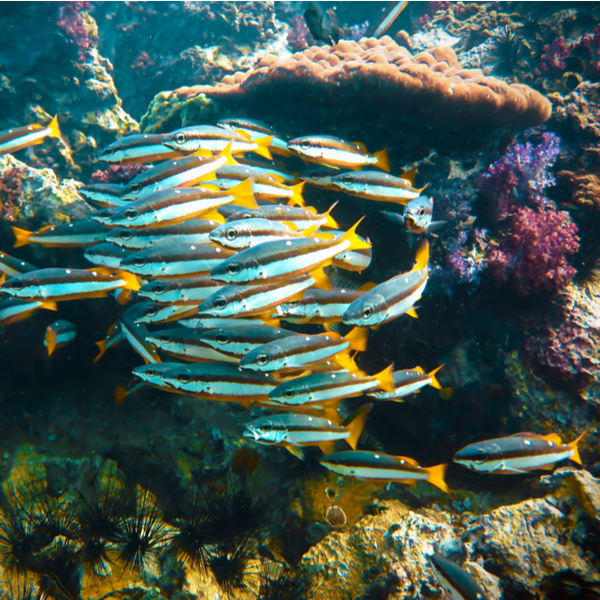 Laem Ka – ideal for kids
If you want to try snorkelling in Phuket but you have kids, then Laem Ka is your best bet. The current is as gentle as it gets, and although the beach is a bit rocky, it's easy to swim out. There are lots of cool crabs here, and the usual interesting fish that swim around the beaches on Phuket. Even if you are a bit more of an experienced swimmer, it offers some of the best snorkelling near Phuket just in terms of sheer visibility.