When your island has everything from rugged mountain scenescapes to serene beaches, it's no surprise that you may be drawn to an active lifestyle. The people of Sardinia, for all their love of good food and wine, have certainly taken advantage of the benefits afforded to them by living in place with so much choice when it comes to outdoor and active pursuits.
Hikers, bikers, and climbers can all find something to do regardless of their skill level, and the more zen among visitors and tourists will be able to find yogic pastimes aplenty on the microcontinent. If you're visiting Sardinia but don't want to just lounge on the beach – or want to really earn that fourth bowl of pasta of the day – then have no fear: we're here to help you stay active in Sardinia. 
Sardinia Cycling
Given the island has miles of gorgeous mountainous regions and cooler weather up the peaks all year round, it's no surprise that cycling, especially mountain biking, is big in Sardinia. There are dozens of amazing routes, with some of the more famous ones crossing the entire island. One of these is the Orgosolo Crossing, which involves riding through nature and dramatic scenery to reach the famous Su Suercone sinkhole. Other great rides include the Tumulu Gigante Loop, the Wunder der Natur to Monte Tuttavista loop, and the Aussicht to Aussichtspinkt loop. All those three are for beginner or intermediate riders and should take around half a day.
Expert riders looking for a tough Sardinia cycling experience can ride up or down the SS125, which effectively takes you from one end of the island to the other through the mountains, although we would definitely only recommend this for the very strongest cyclists. If you want a longer trip but aren't a committed cyclist, then you can ride down the coast from Costa Rei to Fonatanamare (or the other way round), which in itself is a gorgeous ride.  
Those looking to join a cycling tour can contact Sardinia Cycling, who offer a range of one off trips or complete cycling holiday packages all over the island. Even if you're just looking for a bike hire place in Sardinia, Sardinia Cycling can offer a wide range of two wheeled vehicles, although this service needs to be booked in advance and prices vary depending on the time of the year. Another good company that does bike hire in Sardinia is the aptly named Sardinia Bike Rental, who are much less specialist but are probably better to use for novice or non-serious riders, and offer e-bikes (prices vary). 
Sardinia hiking
Hiking is probably where Sardinia really comes into its own in the outdoor activity sphere. The previously mentioned Su Sercone sinkhole has several excellent hikes around it and is quite centrally located, so is very popular. Gola di Gorropu is another area of the island with incredible hikes; centred around a gorge, you can hike through old ravines and spot golden eagles as you walk. The gorge requires sturdy shoes and a lot of drinking water, especially in the summer months. There are two main routes, both of which are around a four-hour return hike. Guided hikes can be inquired about on the Gorropu Cooperative website, and costs vary depending on participant numbers and time of year.
Gola di Goropu is part of Gennargentu National Park, which has other incredible hikes that will take you through canyons, mountains, and wide expanses of greenery all in one day. The higher peaks in the park offer panoramic views of the entire island.   
Outside of that particular park, those looking to indulge in some Sardinia hiking have plenty of other excellent options. Monte Arcuentu is formed of volcanic rock and offers great hikes through remote areas. You may have to use your hands for parts of the trek if you want to reach the summit, but you don't need any specialist equipment. If you're just looking to hike for a few hours and not reach the summit, it's not too difficult, so it's a good track for beginners. For even more dramatic scenescapes, hiking Piscina Irgas offers a blend of rocky slopes and dirt tracks with the backdrop of waterfalls and forests to keep you company. 
There are also a number of companies offering guided and self-guided walking tours across the island. One of our favourite guided tour operators is Hedonist Hiking, who take you South to North over the course of a week (EUR 3,050 (GBP 2,725) all inclusive, except flights). Sherpa Expeditions offer an easier, self-guided tour on the Western side of the island (EUR 890 (GBP 795), including accommodation, breakfast, and equipment/taxi transfers). 
Sardinia Yoga
Yoga with the gentle sound of waves lapping at the shore; yoga with views of mountains, forests, and lagoons; yoga followed by some of the best cheese you've ever had. If you want to practice yoga during your Sardinia trip, there are plenty of options for you.  
If you're keen to make practicing yoga an integral part of your Sardinia trip, then Sardinia Yoga is your best bet. Each morning starts with two hours of outdoor yoga just by the beach, and there are other activities during the rest of the day, although you can do your own thing if you so please. The programme runs out of two resorts, both in the North of the island (Porto Cervo and Olbia) and takes place over August and September. There are classes for different types of yoga, and for all levels of ability. A three-day retreat costs EUR 800 (GBP 719), which includes accommodation and daily classes.
If you're only looking to drop in on a few classes whilst on holiday, Shakti Yoga in Sassari is highly rated. Although the website says they only allow long term clients in, if you email ahead and ask to drop by they may do so; they have previously. Those on the south of the island may want to try Centro Yoga Shunya in Cagliari. You should reserve a spot in a class beforehand to be sure of getting in. Costs for these vary depending on time of year.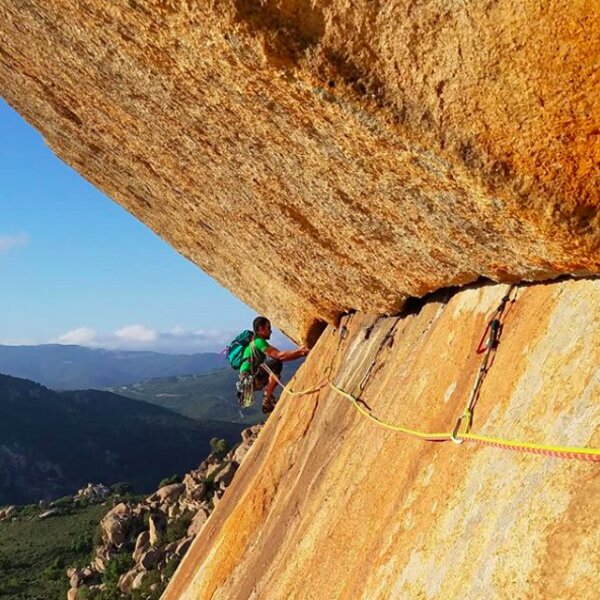 Sardinia climbing
Sardinia is a rock-climbing paradise, where the pastime has plenty of outlets for climbers to get their fix. There are almost 4,000 sport routes and 1,000 multipitches on the island, so climbing enthusiasts will have plenty of choice. Most routes are bolted onto solid limestone, and free climbers have plenty to choose from with regards to granite climbing. 
The most famous and well-regarded area for Sardinia climbing is Cala Ganone, which offers all kinds of routes and styles, including single pitch, short routes, and fierce overhangs. Beginners and experts alike will find plenty to enjoy in the area, with heights ranging from 15m in the Cala Cartoe region to 220m in Budino; in this area alone there are over 1,000 routes. Ulassai is another area where there are plenty of climbs; the climbing community there offers a whole host of activities as well as equipment rental, and those who are very much into the sport will definitely find their people. 
Cala Luna offers some of the most unique climbs on the island. The beach is quite remote, and the bolts can be a bit old, so you have to be careful and shouldn't attempt a climb unless you're experienced or in a big group. Even if you are in a group, the grades on this area of the island aren't accessible to proper beginners, so only climb here if you've got experience. If you're looking to learn how to climb, or want to meet likeminded travellers, then Climbing Sardinia offer a range of tours for all levels.  
If you're ready to get the blood pumping on this magical Mediterranean island, then download the Orbzii app to Dream, Plan, and Book your next holiday today!