If you land in Dubrovnik without logging some sandy beach research hours, you could be disappointed. Yes, there's plenty of pebbled, coastal real estate to go around – but you'll need the lowdown on those too if you want to avoid the masses. Happily, we've got the intel on the best beaches in Dubrovnik. Unless you're in the market for the quickest of dips – or a crowded shoreline of partygoers – swerve the big name beaches closest to the city. Instead, pack your beach bags and boat, kayak, drive or bus to our stellar picks.
Almost all the beaches come with adventure as an optional extra – though a laze on the sands will be tempting. Seek out hidden coves, brace your eyes for Croatia's 'clothing-optional' scene and enjoy Dubrovnik's beaches. 
Dubrovnik's sandy beaches
Lopud Island
Tracking down a sandy beach in Dubrovnik is going to involve a little leg work. Or, perhaps just a ferry journey. In summer, the Jadrolinija ferry runs 5 trips a day – all of which last around an hour. Once here, you'll have your pick of three sandy beaches. By all means swing by Sunj beach – it's an impressive kilometre of sandy coast, but it's also the busiest. You might prefer the Bay of Lopud instead. Sandy, shallow waters with plenty of nearby amenities. There are two stretches of sand here – one very close to the pier – and they are popular with local children. But the island vibes are in full swing and things never get too raucous.  
Facilities: Restaurant, bar (serving gelato) and more shops, restaurants and bars within walking distance.
Orbzii tip: Hiring a paddleboat or joining a kayaking trip to explore the island from the sea. If you want to explore on land, keep in mind Lopud is car-free, so you'll need your walking boots. 
Kolocep Island
Ok, so you're going to have to take another boat trip from Dubrovnik for this one. But we make no apologies for recommending Kolocep. Another car-free island, this one is just a 25 minute ferry trip from Gruz. Once here, you can wander the pine-shaded paths – or head straight for the beach. There are two beaches to track down, Donje Celo is the larger of the two, and while the floor is sandy, expect more than a pebble or two to crop up. Those pine trees we mentioned? They grow right to the shoreline – very welcome in Croatia's hot summers. On this island, everything is laid back -so no high–octane watersports. Sailing, kayaking and exploring are all the action you'll need. 
Facilities: The village of Donje Celo has a few cafes, restaurants and bars.
Orbzii tip: Though this is a sea kayaking hotspot, you can't actually hire a kayak on the island. Rent your kayak in Dubrovnik and bring it with you on the ferry. Why? Because you'll definitely want to paddle to the island's Blue Cave. 
Peljesac Peninsula
If a ferry journey doesn't fill you with joy, how about a road trip to a pretty stunning peninsula. An hour and 15 minute's drive north, the Peljesac Peninsula might already be on your radar if you've booked a wine tour from Dubrovnik. As well as being well stocked with vines and vineyards, there's also an impressive coastline to laze upon. For sand, you'll need to head to Žuljana. The village beach is right next to the town, easy to access and is close to the minimal, but essential, facilities. The best part of the peninsula is the many, many beaches you can only access by boat – or by clambering over rocks – with the help of some guide ropes. Explorers may want to find those for themselves. A tip to get you started? Follow the coast – north or south – from Žuljana and you'll not go far wrong. 
Facilities: The village of Žuljana sits just behind the beach, with everything from a small bank to a handful of eateries. 
Dubrovnik's best beaches
Sveti Jakov Beach
This beach ranks right up there with the best beaches in Dubrovnik. In fact, the only thing that you might score it harshly on is the sand to pebble ratio. But you'll probably overlook the shingle when we list this Dubrovnik beach's winning formula. First up – it's just over a mile outside Dubrovnik. Easy enough to get to – but the crowds seem content to pack in at Banje Beach instead. Ignore them, and come here for the views, the sunset and, well, the views. Peer at Lokrum Island, admire the Old Town from afar or just take in the sea colour and cliffs. 
Facilities: Jet ski hire, kayak hire, parasol and sunbed hire, toilets, restaurant, bar.
Orbzii tip: There are some steep steps to access this beauty. If the thought of hauling you and you beach towel back out puts you off, nip over to the shore on a boat trip from the Old Town.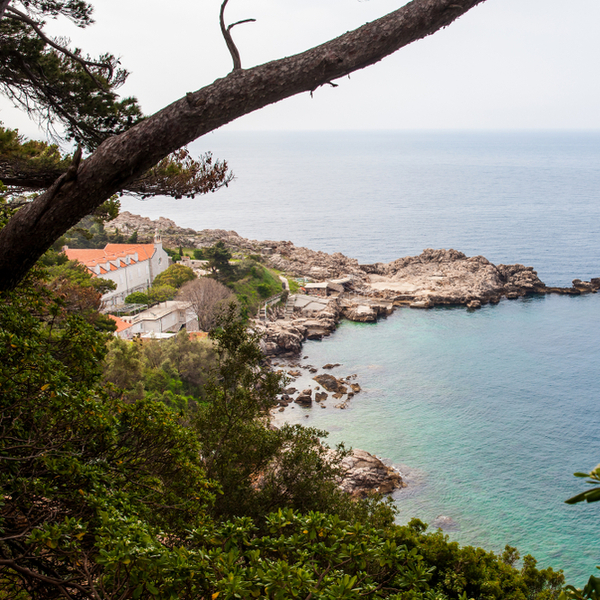 Dance Beach
Not all beach seekers are looking for sand and sunbathing. If you're here to snorkel, grab your fins and trot along to Dance Beach. But be warned, this isn't a spot for nervy swimmers. Ladders take you from the rocks straight into the relatively unprotected waters. So why is this sandless stretch on our list? The water quality. Clear ocean and, if you pitch up in the morning, you'll more than likely have the place to yourself. A curveball, admittedly, but a Dubrovnik beach that's long been a local favourite is worth a look. Did we mention it's just 5 minute's walk from the Old Town? 
Facilities: A small snack bar and freshwater showers. 
Lokrum Island
Controversially, we're not going to recommend a specific beach here. Our only recommendation is to get yourself to the island. Plenty of Dubrovnik boat trips have Lokrum island as a stop off, or you could try a bit of sea kayaking. By far the best way to get access to your own stretch of Lokrum beach. The island is packed with hidden coves, tiny beaches and rocks to explore. The island's pines provide some shade cover – and the joy of snuffling out your own spot will only add to the experience. With the privacy, there does come a touch of nudism on Lokrum – but if you're braced for that, you'll be fine.
When to go
It doesn't seem to matter whether you're a visitor or year round Dubrovnik dweller, neither seem keen to hit the beach in the early morning. If solitude on the sand's your bag – that's the time to unroll your beach towel. After that, if you're still looking for a spot to call your own, seek out the shade. Yes, you'll miss out on the sun, but in the height of the Croatian summer, that's not necessarily a bad thing.  
You only need two essentials for Dubrovnik's beaches. The Orbzii app and a sense of adventure. We'll get you to your sun lounger in just a few swipes, so can you can seek out hidden coves, cave dive into the blue and explore Dubrovnik's coastline to the full.