Whilst St Lucia is world-renowned for having some of the most spectacular landscapes in the Caribbean, let us tell you about life underwater. Diving in St Lucia is like entering an underwater carnival world. Expect to see exotic fish and marine creatures swimming amidst vibrant coral reefs, intriguing wrecks and some truly special underwater surprises.
Whether you choose to dive during the day under a blazing sun or at night by moonlight, diving in St Lucia is an unforgettable experience. There's so much choice when it comes to diving in St Lucia – in fact,25 dive sites to be precise. 
From scuba diving to snorkelling, discover the hidden (and not so hidden) treasures of the aquatic underwater world of St Lucia. 
Scuba diving in St Lucia
Whether you're an experienced diver or a complete novice, scuba diving in St Lucia makes for an incredible experience. From shallow and simple dives, head over to the pretty beach of Anse Cochon where you will be diving amongst sea turtles and seahorses.The Tropical waters of Saint Lucia are home to a plethora of marine life that you can get face to face with during dive sessions on the island. More experienced divers simply must dive into the Daini Koyomarur, a 244-foot Japanese dredger which makes for a fascinating dive. 
Even if you've never dived before or are literally ''testing the water', you can rest assured that there are several dive schools on hand to help you navigate your way through. And can you think of a more incredible way to kick off your scuba diving experience than beginning in St Lucia? The experienced dive instructors navigate underwater life as easy as life out of the water, so you'll feel safe and relaxed as you learn the basics.  
Best places to go Scuba Diving in St Lucia
Keyhole Pinnacle
Miss the Keyhole Pinnacle and miss out! You can expect to experience some serious FOMO if you don't dive at the Keyhole Pinnacle. Best reserved for advanced divers, this awe-inspiring dive site is one of the most spectacular sites when diving in St Lucia. Not only will you get to dive with seahorses, grouper, trumpetfish and snapper fish, you can also dive around the volcanic peaks of the Keyhole Pinnacle.
Anse Cochon
Both the north and south reef of the beautiful beach at Anse Cochon is a diving must-do, from when the north reef merges with the reef at Virgin Cove, to the shallow waters of the South Reef. If you are new to diving or just want a gentler diving experience, both reefs offer a great experience for beginners and beyond. Lovers of coral should stick to the north side of the reef where they will find it in abundance. 
When it comes to sharing the water with marine life, you can expect to see trumpetfish, turtles, seahorses, scorpion fish, shrimp, eels, squid and octopus. 
History lovers will also enjoy seeing the Lesleen M, a wreck of a 165-foot cargo vessel that was purposely sunk in 1986 by the Fisheries Department of Saint Lucia. 
Coral Gardens
Only accessible via a boat trip, the Coral Gardens does exactly what it says on the tin and provides you with the most fascinating, immersive diving experience. The Coral Gardens is in the Soufriere area and with that comes the magnificent Pitons which is one of the must-visit landmarks in St Lucia. 
The base of the larger of the Pitons is 2438 ft high and a truly awe-inspiring and humbling experience when witnessing this iconic World Heritage site in such close proximity – and from such a unique perspective. As well as the corals, you can expect to swim amongst triggerfish, barracudas and other tropical fish.  
Snorkeling in St Lucia
The underwater attractions of St Lucia make for ideal conditions to see the well-preserved reefs that are the home of some of the island's marine life. Incredibly clear waters offer fantastic snorkelling conditions for those wanting to get to grips with some of the wonders of the water, without having to go all the way under. Thanks to the island's tropical climate, there's no bad time to go snorkelling in St Lucia, but some months offer better diving conditions, with the dry season between December and May being ideal for diving. 
Get your head under and take a look at some of the colourful aquatic creatures in the Caribbean Sea with our low-down on the best snorkeling spots in St Lucia. 
Best places to go snorkelling in St Lucia
Pitons
Yes, of course the Pitons are one of the best places to hike on the island, but dig a little deeper (well actually,underwater), as at the foot of the twin peaks of the Pitons you will find one of the best places to snorkel in St Lucia. 
Snorkellers from all over the world are drawn to the site of The Piton Wall. And, like many of the dive sites in St Lucia, you can only access it via a boat trip. Dive into the water and you will be treated to some colourful sights which include sponges and corals stretched out for miles.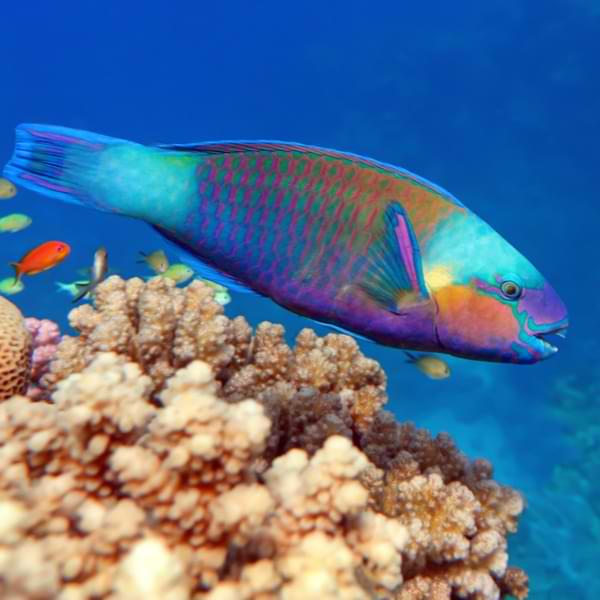 Anse Chastanet
An ideal location for snorkel starters, Anse Chastanet is one of the best places to try snorkeling in St Lucia with good reason. Not only does it enjoy the protection of a marine reserve, it's also super easy to reach from the beach and its calm waters make perfect conditions. 
You may even see some hawksbill turtles in the shallow plateau near the reef of Anse Mamin, as well as parrotfish, trumpetfish and sergeant majors. Take a boat to get to it on either a half-day or full-day excursion from the capital Castries or from the nearby town of Soufriere.