Do you dream of wheeling through chic streets, treating everyone you see to a jolly 'bonjour'? Perhaps there's a fresh baguette or two in your panniers and a historic monument swinging into view? Gallic bliss. And, well, Paris is THE city to make any two-wheeled dreams come true. Bike rental in Paris is a viable option, with Vélibs (more on those later) and bike hire companies strewn across the capital. But if you're not au fait with the city's best bits and where to find them, a Paris bike tour is your best bet. Yes, you'll burn off a few calories, but coffee, cheese and croissant stops will keep your holiday indulgence meter nicely topped up. And, if peddling your way from Parisian sight to sight still sounds a little too strenuous, there's always a Segway tour of Paris to take the strain off your weary legs.
A taste of Paris
If you're short on time – and, really, with so much to see in Paris, why wouldn't you be? – take this tour. Yes, they wedge in a little bit of everything, but that's not necessarily a bad thing. A rummage around a Paris street market is about as Parisian as it gets, but don't fill up on fromage and croissants just yet, there's still local hangouts and the Bastille to take in. Paris Bike Tour's 4 hour romp comes in at €79 for adults – not the cheapest tour out there, but for a snapshot of Paris in half a day? Worth it.
Street Art
Hop on a bike with Simply France Tours and they'll whisk you to some of the city's best murals. Prices start at €39 per person for a leisurely 3.5 hour bike tour through, what's essentially, an open-air museum. Much loved graffiti artist Blek le Rat made his start in Paris, inspiring Banksy – among others. With work on the walls by Tristan Eaton, Cryptik, Conor Harrington and Addfuel – you may just get a peek at the next big thing.
Think you know Paris?
You've seen the sights, found the best raclette Paris can offer, now what? There's a bike tour for that. Join Bike About Tours as they wheel past ancient city walls, a hidden castle, Jim Morrison's house and more offbeat sights you're unlikely to stumble upon yourself. Perhaps the real highlight is Paris' most 'grammable street. Hashtags at the ready, they also deliver you to the spot where you can find the city's best baguette. 3.5 hours of food, social media gold and secret shenanigans. Not bad for €39.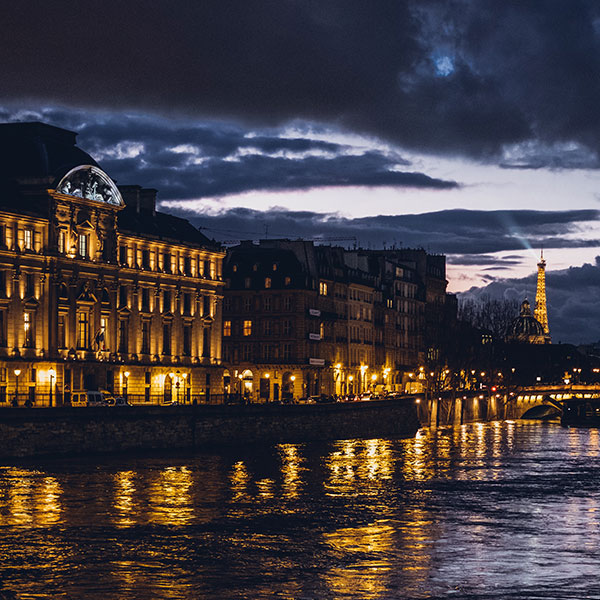 See the City of Lights
Fashion conscious types will want to pack something that pairs well with 'hi-viz'. Vibrant jackets on, Blue Bike Tours head out at dusk to see iconic Paris buildings twinkling in the night sky. It's not all pedal action though, you'll transfer to a bateau mouche for a one hour cruise on the Seine. We think this is great value at €45 for adults. The stop for ice cream and crepes under the glowing Eiffel Tower is a nice touch. Fair warning: depending on sunset times, the tour may start in daylight.
Escape to the Palace
If you're in the market for some elaborate gardens, sumptuous staterooms and some very intriguing royal scandal, we'd suggest a chat with Boutique Bike Tours. For €134 they'll give you the regal treatment at Versailles. Pricey, but the experiences are wedged in there tighter than a Paris Metro at rush hour. You'll eat crepes, shop among the locals for your picnic, skip the line at the palace for a guided tour and do a fair bit of peddling past fountains, Marie Antoinette's Hamlet and the streets of Versailles. The wine and cheese tasting only adds to the day's joy.
Best kept secrets
Now that so many people have taken Paris Charms & Secrets Tours – and raved about them, just how secret are those tour spots? Ultimately, still pretty hidden. The tour's guides know Paris inside out. Those little nooks and crannies most people stroll by daily? They've delved deep into their history and are waiting to tell you tall tales and long forgotten Parisian history. A must if you fancy walking away with more knowledge of the city than most residents. Swap 4 hours and €59 for a Paris e-bike tour you'll not forget.
Go it alone…
Explorers and spontaneous types. Read this far and feel a little too restricted by the Paris bike tour schedules? Grab yourself a Vélib bike. You'll have access to 20,000 of them across the city and  they're far simpler than other bike hire options in Paris. Similar to London's 'Boris Bikes', you can just swipe your credit card at one of the 1,800 stations and hire a bike for a week – or even just a day. A 24hr pass costs €5 for a non-electric bike and then €1 per hour from there. Snaffle the best bits from any of the tours we've listed, or create your own unique route.
Orbzii Tips: Paris, like any city, is a whirlwind of traffic and devil-may-care pedestrians. Pack a helmet in your case and keep your very best urban cycling wits about you.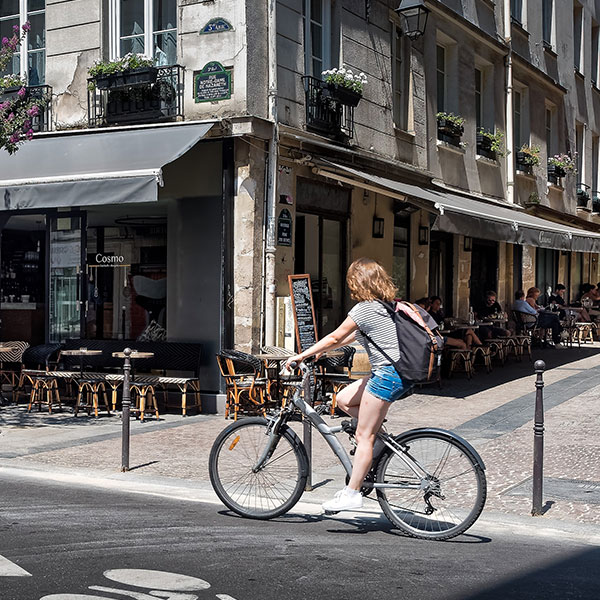 Sightseeing - Minimal Effort
On balance…
If teetering about on a Segway isn't going to bring you any amount of joie de vivre, XL Tours could provide an interesting alternative. They've a rather chunky line in extra wide electric scooters. Bearing a slight resemblance to a Segway's sturdier cousin, there's absolutely no peddling – or license – required. Tours start at a nifty 75 minutes, whizzing through Paris bike lanes at up to 25km/h. An efficient way to see the Louvre, Musee d'Orsay, the Eiffel Tower, the Liberty Flame the Place de la Concord and more for €45. They can also pop you on a Segway, if you're up for it.
Segway Sightseeing
It's fair to say, your options are wide ranging when it comes to Segway tours of Paris. Segway your way around street art, monuments and attractions. Go for a short, private or two hour option. Or see Paris by night. In short, endless scope for gyroscopic thrills. Our pick of the Paris Segway bunch are Fat Tire Tours. For 2 hours of your time, and €70, they'll glide you from landmark to landmark – with a stretch along the river Seine. The original Segway operators in Paris – their guides never just 'run through the script'. Historic, fun and packed with Paris anecdotes.
Will you be saddle sure or steady on your 'Seg legs'? However you choose to see the sights, send the Orbzii app to your phone. From there, it's easy to dream, plan and book your ultimate Paris break.