Who among us can resist the urge to grab an aerial plate shot (or a swanky toilet selfie) in a suitably glam spot? In truth, few can ignore the call of the 'gram. But in Instagrammable restaurants in London? The drive to capture everything from the art clad walls to the perfectly plated meals will spiral out of control. The cafes, restaurants and bars in the capital have gathered their memes, called on the help of the best interior designers and popped in enough quirks to keep snap-happy diners posting for years. The only real dilemma is deciding where to dine to max out those likes… 
Chelsea Funhouse
Cobble together enough Instagram memes and you're bound to get those posts and hashtags flowing. And, it seems the combo of champagne puking unicorns, neon signs and bottomless brunches at Chelsea Funhouse is drawing a fair few likes. Split across three very different floors, you can experience everything from plush, laid back life to hedonistic bubbly straight from a unicorn's mouth in this very distinctive restaurant-slash-bar in Chelsea. And, while most would love to label this spot as a gimmick, the plates and drinks happen to be just as swanky as the walls. By all means drop by for the food in the Jolie – un salon restaurant, but don't miss the darker underbelly on the lower ground floor. Here? Well, you order cocktails on a WW2 Enigma machine, of course.  
Sketch - the Gallery
If there's anything more pleasing than the baby-pink tones at Sketch, it's the art on the walls. Expect to be very distracted from your plates, dining companions and, yes, even your phone, by the works on display. What looks like a random collection, is actually an essential must see among the contemporary art galleries in London. All the works are by one artist – David Shrigley – and this represents his largest ever exhibition. Cultural significance aside, the best meal here has to be the afternoon tea. Light and yet adorably cake-strewn, the tower of treats matches perfectly with the surroundings. Though, this is another venue split into very different floors. We're all for the fun and playful Gallery offerings, but it's probably worth noting that the food served in the Lecture Room and Library comes with a well-deserved 3 Michelin stars.  
Orbzii tip: As strange as this sounds, nip to the bathrooms for another scene to 'gram. You'll find a set of egg-like pods to use, where your mundane, but necessary, moments in the stalls will be accompanied by sensory lighting and mood music. 
Milk Train
We can't help but love this gorgeously sugar-laden, den of fluff, florals and frozen goods. Milk Train hits the Instagram trifecta of quirky interiors, inventive twists on a classic and, occasionally, rainbow sprinkles. And, those sprinkles sit atop ice creams wrapped in a glucose-hit of candy floss. Heaven in a cone (or tub). The ceiling decor changes with the seasons – as does the menu. Though, it's the ice creams and floss that bring the colour. And, though Milk Train is technically a cafe, it just had to feature here. The minimal stylings might seem a little bland at first – until you take a look from the outside. Take a seat in a booth, and to the passersby? Well, you're effectively sitting on a train. Simple, sweet and so moreish. 
Ichibuns
Combine anime, manga, burgers and sushi and you get Ichibuns. A place where comics cover the ceilings, backlit Japanese art dons the walls and the chicken katsu is served in a sandwich. Expect the unexpected is a little too cliche for Ichibuns. Mostly, this place delivers on high quality Japanese food served in a sparsely lit treasure trove of Eastern pop culture. But it's the katsu sandwiches, that shouldn't work – but do, that make you love this little dining nook in Soho. So for the most part, there's little to label unexpected. But unlike some instagram restaurants in London, this bar never really feels like a style over substance spot. 
Orbzii tip: Unless you really know your names in sushi, it's all too easy to miss that Ichibun's sushi menu was devised by Endo Kazutoshi – third generation sushi master and Michelin star holder. 
Petersham Nurseries Teahouse
If there's a finer indoor garden in London, we've yet to find it. Part nursery, part dining showstopper, Petersham Nurseries Teahouse puts you right at the heart of a working nursery. Surrounded by greenery in this Richmond greenhouse, you can munch on suitably seasonal food while eyeing up your next houseplant. Ingredients are often shipped in from the family's farm in Devon – and comfortingly there's plenty of chutneys, cakes and quiche to max out the farm-based, home-cooked kitsch vibe. Craft beers and organic coffees pique many diners interest on the drinks menu – but it's the heavenly botanics that surround you that are bound to get you posting to your feed.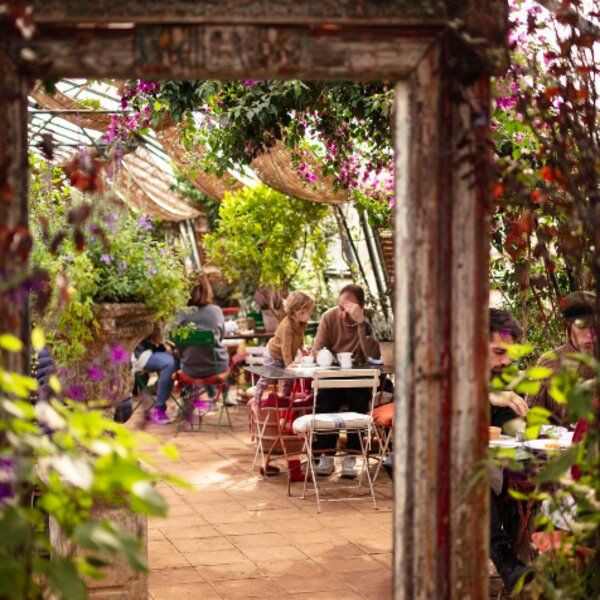 Orbzii tip: If the surroundings inspire you to get green-fingered, the nursery hosts hands-on floristry and horticultural workshops. Perfect for arranging a few blooms to brighten up your next brunch at home. 
The Rooftop
On Instagram, restaurants in London do a roaring trade from their interiors, but few can boast sharable views. Apart from, perhaps, The Rooftop. Sat atop the Trafalgar St James hotel, this sparkling terrace looks down over Trafalgar Square – with the London Eye being the shining beacon in the distance at night. There's a menu of Japanese and Korean delights on offer too – a pleasing extra. Pop up to the terrace for some small plate action – we'd plump for the prawn tempura, shiitake bao bun and salmon sashimi – before retiring to the warm embrace of the indoor area. Veuve Clicquot is always on the menu – as are the almost equally delicious Japanese mochi. 
Orbzii tip: If you're organising a private get together – check out the 'Room' – an indoor spot, with room for just you and a dozen of your closest friends, the views are still spectacular – without the worry of the London weather getting involved.