It doesn't matter whether Michelin stars or quick and tasty bites get your mouth watering. In Porto, food options are bountiful. And, they do stray into quirky on occasion too. The travel essentials are, of course, there as well. Sea views, breakfasts that fulfil your entire daily calorie allowance and spots you'll long to return to long after you've left. We've given the Porto food scene a taste check and picked out dining destinations you'll want to have on your radar…  
7G Roaster
Unless you're prone to popping a pack of PG Tips in your carry on, you'll most likely want to start the day with a decent coffee. In Porto, you'll find it at 7G Roaster. At first glance, the industrial chic, work-ready tables and caffeinated regulars might make this spot feel a little over familiar. We've all hurriedly cranked out a spreadsheet in a joint like this. But, at 7G Roaster, they do things a little differently. Tacos for brunch, jazz piped through the sound system and a coffee menu few can match. Add in the fact that they source their own single origin beans and roast them to perfection here and you've got yourself a latte – or espresso to remember. Coffee aside? Their eggs Benedict served on hash browns instead of English muffins is a stroke of culinary genius. 
Tavi
Let's be honest, is there any better breakfast location than a bakery? Well, Tavi more than raises the early morning stakes with its ocean view cafe. Stylish and minimal – it's arguably just what you need after a night spent exploring the finer side of Porto's nightlife. Unsurprisingly, many breakfast options centre around the fresh-from-the-oven breads Tavi is famous for. Though, those with a sweeter tooth will want to prowl the sugar-laden shelves of the pastry shop. You'll not find any of the hip, industrial stylings of 7G Roaster here, but the bakery more than makes up for it with sea views and carbs. 
Orbzii tip: If you like Tavi, keep an eye out for the brand around Porto. You can occasionally catch the bakery at pop up stall's in the mall and other locations. 
Lunch
Casa de Horta
Pitching Casa de Horta could be a tough ask. Unless you're in the market for a distinctly different lunch experience. Here, there are no chefs or cooks, yet they do serve lunch and dinner at low, low prices. So what's the deal? You're essentially dining in a community environmental association. Meals are vegetarian or vegan and are created using local farm produce. Which all sounds very ethical and righteous until you realise – you're dining at a sustainable, farm to table restaurant at a fraction of the prices agritourism usually charges. If one of your travel goals is to really immerse yourself in local cultures, Casa de Horta's community-focused lunches and dinners are a great place to start. 
Orbzii tip: Pitch up on a Friday to be served a vegetarian version of a distinctly Porto dish – Francesinha. There's a shop too, if you're on the look out for some eco-friendly items at low prices. 
Zenith
Can you resist a trip to one of the world's most Instagram–able restaurants? Even if the thoughts of a #nofilter lunch doesn't grab you, Zenith's all day menu (paired oh-so-splendidly with colourful cocktails) just might. And really, this is the kind of place you're desperate to stumble into on holiday. Plates of all sizes, alcohol served with just enough fruit to make pre-midday drinking acceptable and a nod to any plant-based eaters in your party. A quality all-rounder that asks little of you, other than how you might like your coffee – or espresso Martini. The only problem travel-savvy types might have with Zenith? You could be in London, Madrid or San Francisco. We've all seen the decor, drinks and plates before – but a little familiarity, far from home, isn't necessarily a bad thing. 
Orbzii tip: Vegans, you're not short on Porto food spots, but despite Zenith's omni approach, there's a robust vegan offering peppered through their menu. It's one of the best places to bag the ever popular Beyond Burger. 
Dinner
Casa de Chá da Boa Nova
Porto food ranges from the cheapest of eats to Michelin meals in stunning spots. And, if you're going to treat yourself, you might want to take a look at the Casa de Chá da Boa Nova dining room. Yes, they're serving up plates that come with a 2 Michelin Star seal of approval, but it's the location that might wow you above all else. Built into the rocks of Porto's north-west coastline, this architectural stunner makes you feel like you could almost be dipping your toes into the North Atlantic. And the food? Seafood is the star of the show, though you may want to award Casa de Chá da Boa Nova an extra star for it's well thought out vegetarian menu. To really make the most of your visit? Plump for the 21 course menu and let chef Rui Paula take you on a creative culinary journey.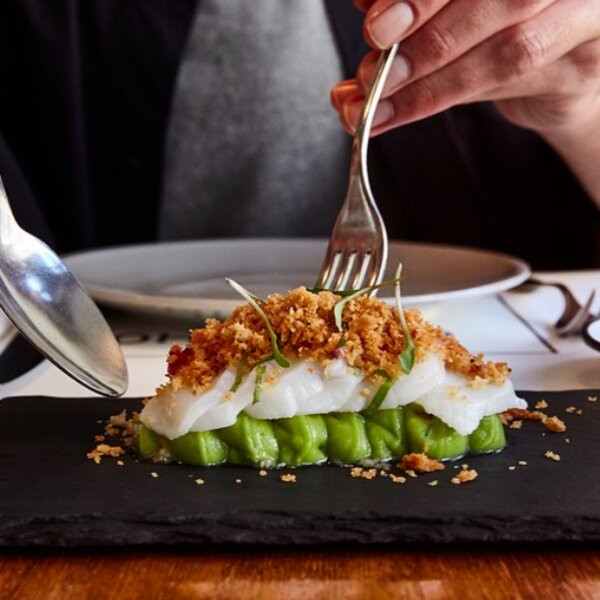 Cantinho do Avillez
If you're on the hunt for Porto food that wows – minus the pomp and ceremony that comes with a Michelin star or two, run, don't walk, to Cantinho do Avillez. The restaurant brings a little diner chic to the Porto scene, slightly lampooning the American diner style cheap eats you'll find elsewhere. In these booths? Expect to eat 'spoon-tender veal' and roasted octopus, rather than burger and fries. Make no mistake, there's a definite air of fine dining here, but with no pressure to conform to swish norms. By all means, grab a table and a steak sandwich, but expect to fall foul of some epic food FOMO. The menu is packed with local produce and Portuguese classics – albeit with a decidedly international twist. This one is a must for your Porto dining itinerary.